Expected technical
delivery
Floor area
- m2
Apartment's Energy
Classification
Number of apartments
Free apartments
Location
High-quality newly built apartments in a green and revitalised urban setting
Woodland, Cordia's latest development, is located on the intersection of Pékerdő Street and Vágóhíd Street in a dynamically developing part of the Ferencváros district. Residents can look forward to a huge tree-filled internal garden and the kind of intelligently designed apartments we have come to expect from Cordia.

Similar to the urban regeneration of the Corvin Quarter, local residents of this neighbourhood will be able to enjoy a totally transformed modern residential environment with a wide range of brand new services.
Modern apartments to meet your specific needs
Woodland's unique youthful facade, modern newly built apartments and outstanding transport facilities and services make it not only an outstanding investment choice, but also the perfect high-quality and comfortable living space for nearby workers and young people either looking for their first apartment or planning a move to Budapest.

The 1st phase has a total of 257 studio, two, three and four-room homes with garden access or a balcony, and with heating and cooling panels in the ceiling that utilise renewable energy, while the upper floors feature exclusive penthouse apartments.
Residential park and region
Project status
The building's reinforced concrete base plates are complete. The vertical structure is now being built (reinforced concrete walls, pillars and floors).
Every advantage of the green belt just a few minutes from the city centre
Woodland residents have the chance to get close to nature with the adjacent Haller Park. Kerekerdő Park is also only a few minutes' walk away along a sycamore-lined path, with Orczy Garden just a short stroll further on. Gizella Promenade on the Danube riverbank comes equipped with a cycle lane and is only a stone's throw from the Woodland site, while the nearby Kopaszi Dam offers a wide range of recreational activities for both families and sport lovers.
Superb location, easily accessible
Thanks to its exceptional location, the Woodland project boasts excellent transport links: the Haller Street stop for the 23, 54 and 55 buses and tram 2 is three minutes' walk away, the Boráros Square stop for the 4/6 tram is five minutes' away, and Nagyvárad Square and Klinikák stations for the M3 metro line are both a 15-minute walk away. Several night bus routes stop at Haller Street, while the 918, 923, 979 and 979A bus routes also run on the same line.
Ceiling cooling and heating
The cooling and heating of the Woodland apartments is provided by heating and cooling panels in the ceiling, with a heat pump also located in the closed ceiling area. The system uses renewable energy and, thanks to the large, radiant heat-emitting technology from the ceiling, provides both cooling and heating functions that increase the level of thermal comfort in the apartments.

Unlike previous cooling and heating systems directed to one area, no colder or warmer points develop in the apartment due to the even dissipation of heat. There will be no radiators or air conditioners installed in the rooms. This means that the rooms can be furnished more easily and the facade of the house will not be burdened by external air conditioners. The thermostat is controlled through a smart home system, installed in every home. With this smart system, you can even calibrate the desired temperature of your home remotely via your mobile phone.
Central Sales Office
Visit our Central Sales Office to find out more about our apartment offers!
Opening hours: Monday – Friday: 9:00 am – 5:30 pm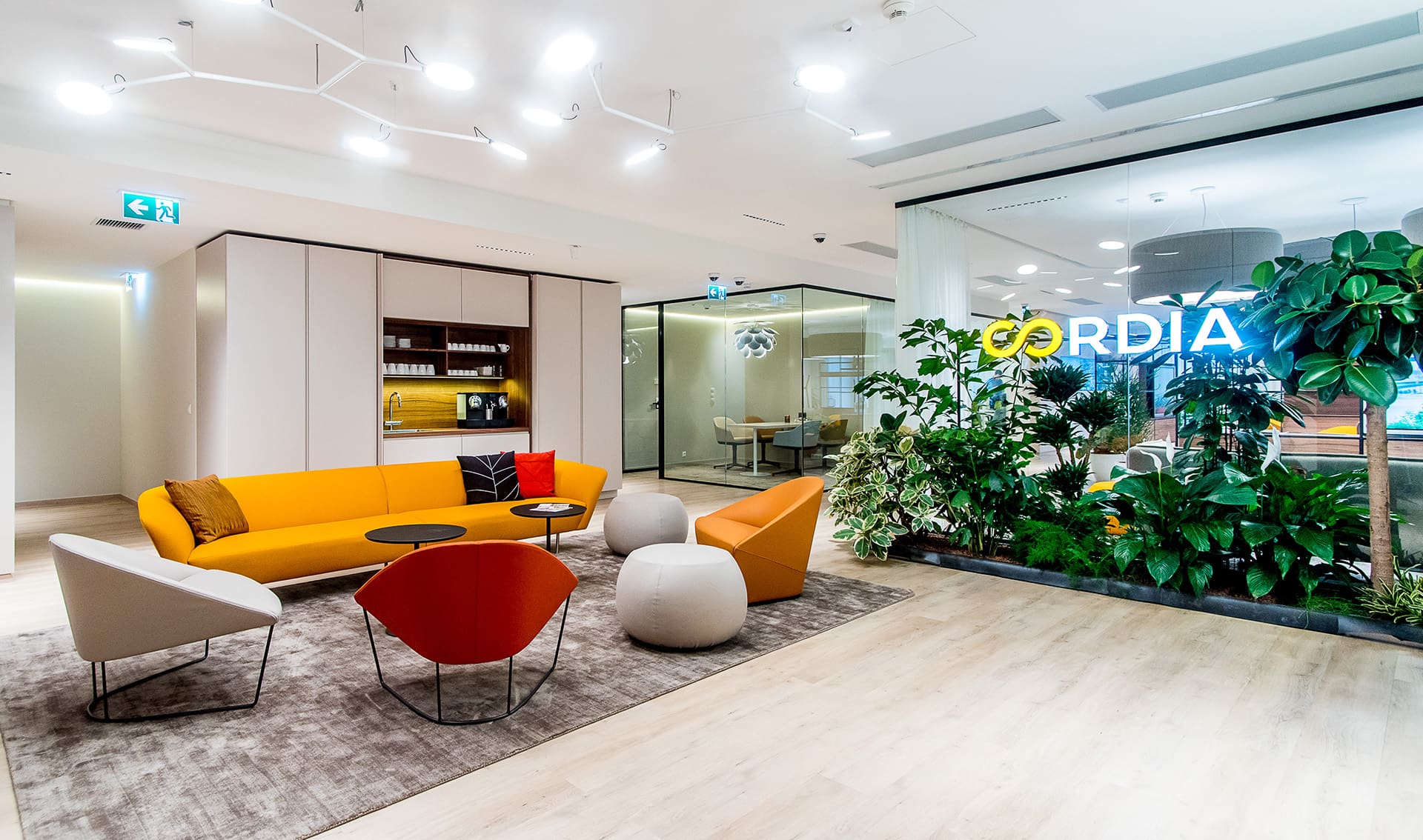 Did you find what were you looking for? Do you need more information?
We will help you, contact us!