Expected technical
delivery
Floor area
- m2
Energy
classification
Number of apartments
Free apartments
Location
Exclusive homes in inner Buda's most stunning neighbourhood
This 44-apartment development is located in the 1st district in Naphegy, one of inner Buda's most attractive and exclusive areas. The property is situated north of Naphegy Square and adjacent to Gellerthegy Street and Naphegy Street. This is one of Budapest's most prestigious areas, where you can enjoy every advantage of the city centre and a superb range of services.

These qualities mean that apartments built here are not only the perfect choice for people looking to buy a property for personal use, but also represent an excellent opportunity for those interested in a buy-to-let investment. The homes in this part of the city are in high demand from tenants due to the easy access to the city centre and the proximity of the office quarter and universities.
Superb transport links, wherever you want to go
The building, which is located in a quiet street, enjoys superb transport links. Just a 2-minute walk away, you will find stops for trams 19 and 56, while the 105, 178 and 5 buses and 17 and 61 trams are also only a distance away on foot. Déli Train Station is also just 800 metres down the road.

This is also an excellent location if you're travelling by car: the city centre can be easily reached via the Chain Bridge or Elisabeth Bridge, while you can also reach the M1 and M7 motorways relatively quickly, so Balaton and Western Hungary are easily accessible.
Residential park and region
Project status
The structure of the building should be complete by the end of the year. Masonry work on the lower floors is nearing completion, while the installation of the external windows and doors is in progress. Basic mechanical and electrical work has begun in the building.
Services, leisure opportunities and educational facilities nearby
There is a wide range of services to be found close to the residential park, with pharmacies, health centres, hospitals, banks, shops and entertainment options all situated in the neighbouring streets and MOM Park, just a few minutes' drive away. Local educational insitutions include several nurseries, schools and universities, including buildings belonging to ELTE and the University of Physical Education. The Buda Castle District and Tabán are easily accessible on foot, while those who enjoy an active lifestyle can take advantage of the university athletics track and the Oxygen Wellness Center. You can also find the Tabán Tennis Centre and Budavári Sports Centre close to the property, while the expansive Vérmező Park is just a ten-minute walk away. The Tabán Art Cinema offers film lovers a unique cultural experience.
An array of fine-dining experiences nearby
In addition to the wide range of services and cafés, there are also several renowned restuarants located close to the residential park. The Déryné restaurant is just around the corner and is equally suitable for business meetings. Withing just a few minutes' walk, residents will also find several other restaurants recommended by the Michelin Guide. These include Zóna, Alabárdos, Baltazár, Arany Kaviár and Csalogány26 – none of which are more than a ten-minute walk away. There is also the Czakó Garden, which is located in Tabán's oldest building and home to a grape orchard, confectionery, wine cellar and farmers' market. The area's wide range of services and highly developed infrastructure make buying a property on Gellérthegy Street an excellent choice for younger and older people alike.
Ceiling cooling and heating
The cooling and heating of the Naphegy12 apartments is provided by heating and cooling panels in the ceiling, with a heat pump also located in the closed ceiling area. The system uses renewable energy and, thanks to the large, radiant heat-emitting technology from the ceiling, provides both cooling and heating functions that increase the level of thermal comfort in the apartments. Unlike previous cooling and heating systems directed to one area, no colder or warmer points develop in the apartment due to the even dissipation of heat. There will be no radiators or air conditioners installed in the rooms. This means that the rooms can be furnished more easily and the facade of the house will not be burdened by external air conditioners. The thermostat is controlled through a smart home system, installed in every home. With this smart system, you can even calibrate the desired temperature of your home remotely via your mobile phone.
Central Sales Office
Visit our Central Sales Office to find out more about our apartment offers!
Opening hours: Monday – Friday: 9am – 5pm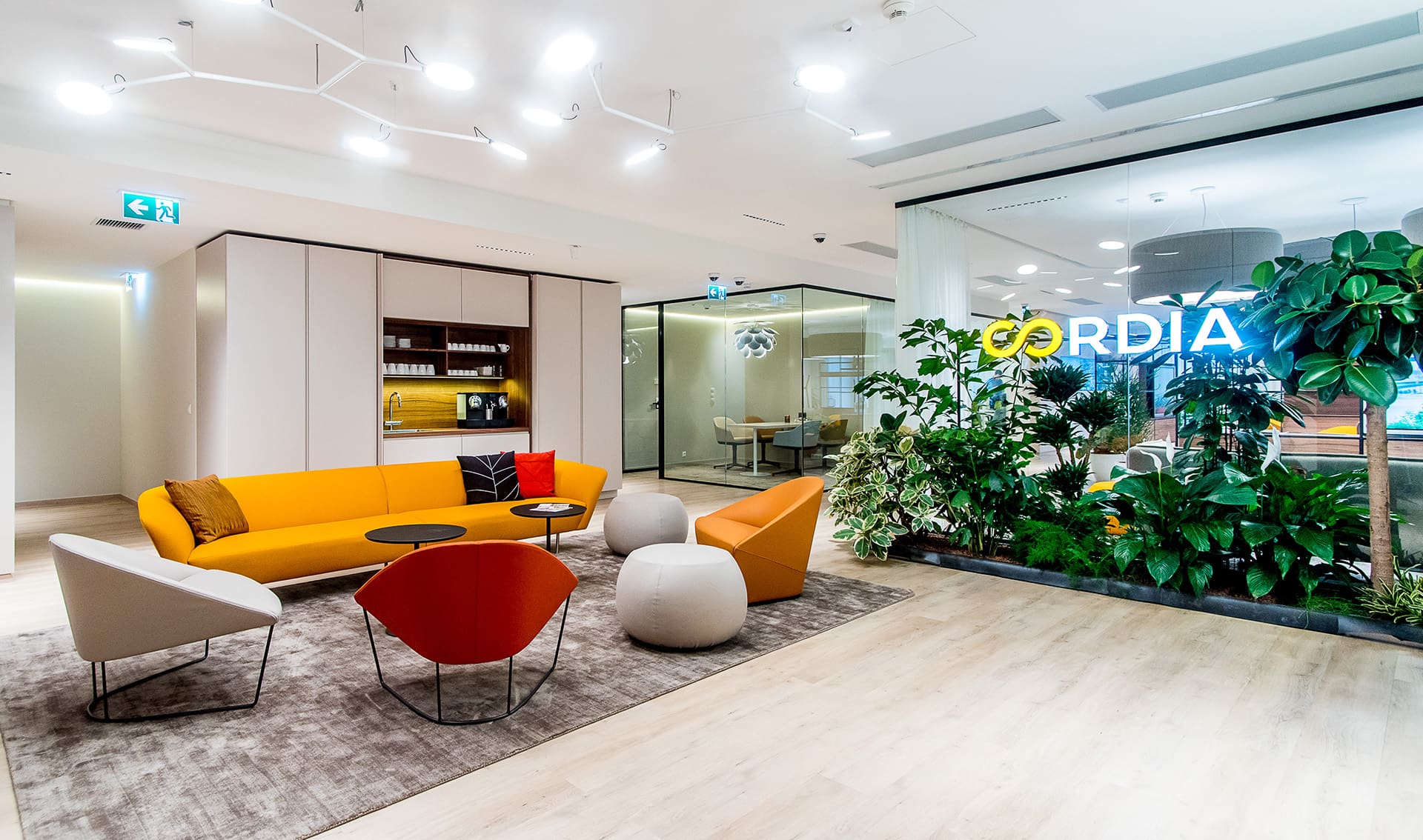 Did you find what were you looking for? Do you need more information?
We will help you, contact us!